This is the real me, R.C. Hill, III, Owner of R.C. Hill Mitsubishi - Ocala.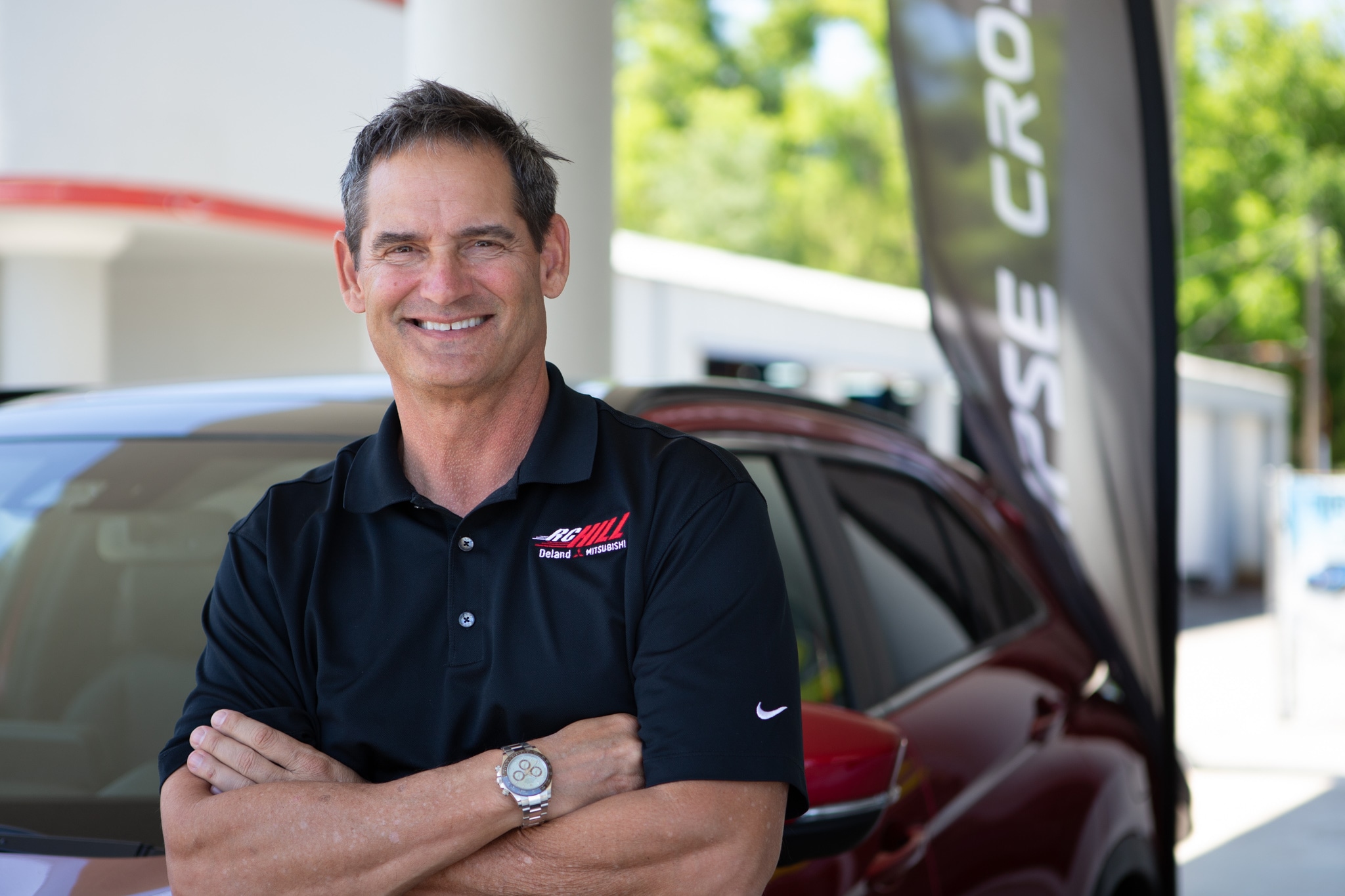 You hear me on the radio, but in real life? I'm dad to 4 amazing children. Husband to Mimi. And the owner of the Top Mitsubishi dealership in the country.
Know this: I love my job. I'm not acting on the radio. I'm just that pumped to be breaking down the stereotypes of car buying and remake the industry. Seriously. I'm trying to bust the negative image of car dealers by infusing honesty and transparency into everything we do.
I know what most people think about car dealers, heck, I know what I think about most dealers. But the R.C. Hill you hear on the radio is the real deal. I'm taking my business smarts, my business background, and my faith-perspective to this business of car selling, and I aim to eliminate the "tarnished" car dealer reputation that plagues my industry.
Here's my story.
Growing up in the car and motorcycle business, I knew from an early age that a lot of dealers, and even the industry as a whole, have a pretty poor reputation. So, when it came time for me to start my own business, I knew exactly what I did not want to be.
I purposed in my heart to be a different kind of car dealer … to run my business in a different way than I had seen others run theirs. And, that attitude has helped me survive some pretty hard times.
The idea of "The Car Dealer Next Door" actually came from my real next-door neighbor. He's a very busy professional, and since he knew I sold cars, he came to me asking if I could help him with a problem. I said, Sure! He wanted to get out of his commitment, to his then-current car, and buy a vehicle with more storage space and towing capacity. But since he owed more on his car that it was worth, nobody had been able to help him.
So, I did the neighborly thing. I told him I'd see what I could do. After listening to his needs, I got his car appraised, found a vehicle that met his needs, helped him find financing and had the car delivered to him. When it was all finished, he said, "Wow, I wish it was Always this easy." He has been a customer to this day.
That moment was kind of an epiphany for me, it was when I realized that people really want to deal with somebody they Know, Like and Trust. And I wondered, why can't I be that person who goes the extra mile for everyone who needs a car-not just my actual neighbor? Ever since then, I've tried to be "The Car Dealer Next Door" for every single customer who walks through my door. No matter where they come from. Just like with my neighbor, I see my job as helping each and every one of them get what they need in a friendly manner. So that's it, I want to be "your car dealer next-door." - RC Hill, III

My Five Principles of Success
Today, my team and I still strive to consistently go the extra mile for our customers. As "The Car Dealer Next Door," I have a responsibility to serve my neighbors. I want people to feel like they can come to me if they have a problem and I will help them solve it. So I have built my business on the following five basic principles.
If our customers are going to trust me like a neighbor, I need to trust that the staff I've hired to serve them will treat them right-after all, they're an extension of me. So I make sure to hire friendly people that will do business under our philosophy. They are all different people, but I trust that we're all on the same page-we all genuinely try to help our customers, and in order to really solve their problems, we listen more than we talk. It might sound strange, and definitely not like your image of a car salesman, but we actually sell more cars that way.

If I walk into the local grocery store wearing my shirt from the dealership, chances are someone's going to recognize me. When people hear my name, they might recognize it from my radio commercials and associate it with my dealership. That's why I really believe what it says in Proverbs 22:1-that "a good name is more desirable than even great riches." That is why my name is on the dealership, which means that when all is said and done, my name is on the line. So, I make sure I don't do anything that will diminish that name or people's trust in me.

You can look at 10 different things from 10 different angles, but most of the time, there is really only one question you need to ask: "What is the right thing to do here?" When you do the right thing, even if it's hard, things eventually turn out right. I've seen it happen time and time again.
There's a Solution for Every Customer
Every customer who comes to my dealership comes because they have some sort of problem-and it's my job to help them find a solution. So, if they're looking for a specific type of vehicle, if they're having financing issues,or even if the car they want to trade in is upside down, we believe every customer can have a newer nicer car, get great service and get a good deal. And we're dedicated to going the extra mile to make it happen.
Genuinely Try to Help People
It's amazing what you can accomplish when you put your mind to helping others. When you go the extra mile and dedicate yourself to finding solutions for people, they appreciate it and they remember you. To me, that's what it means to be "Your Car Dealer Next Door." Just like the local doctor, I want to be the "go-to" guy that my neighbors can come to whenever they need help.
And word seems to be spreading. We have people coming from farther away-people who live 40 or 50 miles away, drive all the way to our small dealership in our small town. They come all this way just because they want to work with "Your Car Dealer Next Door." But wherever they come from, I make sure my team and I treat them just like my next-door neighbor. We make sure we go the extra mile to find solutions that will put each and every customer in the newer, nicer car they deserve.
Today, our small-town dealership is a top Mitsubishi dealership in the country. Which makes me very proud of our "customer-centric" philosophy and grateful to my neighbors-even the ones who live 50 miles away-who have made me "Your Car Dealer Next Door."
Learn more about us at RC Hill Mitsubishi - Ocala
Not all car dealerships are created equal, and here at RC Hill Mitsubishi - Ocala, we pride ourselves on being a cut above the rest with our unrelenting commitment to customer service. From our hometown of Ocala to the nearby communities of Belleview FL, The Villages, Gainesville FL and Dunnellon, we're proud to have worked with folks from all walks of life. And whether you're seeking the perfect new car, shopping on a strict budget for a used vehicle, just searching for that perfect financing deal, or even browsing around for a service and parts center you can trust, we're confident you'll find that our dealership is a great resource for all your automotive needs.
Find Your Ideal Ride at RC Hill Mitsubishi - Ocala
Whatever you're shopping for, our sales team is here to ensure a seamless experience throughout every step of the vehicle-buying process. Know exactly what you want? Great! We'll help you secure the best financing for your budget. Not sure where to start? No problem! We can help you narrow down your options, so you can select the best Mitsubishi for your needs.
Experience Unique RC Hill Mitsubishi - Ocala Brand Customer Service in Person
Make the trip from your home in Belleview FL, The Villages, Gainesville FL or Dunnellon to visit us in person here in Ocala and see for yourself how much more enjoyable shopping for, and owning, a vehicle can be with a professional dealership on your side. We're conveniently located, we're waiting to answer any and all of your questions, and we look forward to assisting you with all your vehicle transactions and services. 
RC HILL MITSUBISHI-DELAND NAMED "BEST-IN-CLASS" FOR
CUSTOMER SERVICE SATISFACTION FOR SECOND CONSECUTIVE YEAR
FRANKLIN, Tenn. And DELAND, Fla., April 24, 2020 - Mitsubishi Motors North America, Inc. (MMNA), today announced RC Hill Mitsubishi, located in DeLand, Florida, was again recognized with the brand's annual "Best in Class" award for Service Satisfaction (CSI) based on Mitsubishi's Diamond Satisfaction System survey tool.
For the second year in a row, RC Hill Mitsubishi-DeLand has been recognized with the Top Customer Satisfaction award for dealership service in the nation. The store, which opened in 2003, has demonstrated a continued focus on improving their vehicle service and maintenance experience for new and repeat customers. In late 2019, RC Hill opened a second location in Ocala, Florida - a testament to the success, commitment and dedication of the RC Hill Mitsubishi team and franchise.
"We remain committed to helping all of our dealer partners improve their customer service satisfaction scores, and we commend RC Hill Mitsubishi-DeLand for their impressive dedication to customer satisfaction," said Mark Chaffin, COO and acting CEO, MMNA. "At Mitsubishi, we're committed to building excellence throughout the vehicle service and maintenance experience, and we applaud the entire RC Hill Mitsubishi team for their achievement."
The Diamond Satisfaction System (DSS) was established to shed light on the diligent efforts made by MMNA dealers to ensure customers receive exemplary service and a satisfying dealership visit. This is an annual award that recognizes the dealership with the highest customer service experience scores in each of its four districts across the country. The annual "Best in Class" award is presented to the year's top dealer.
"RC Hill Mitsubishi is dedicated to providing the best service experience to our customers, and we are honored to be recognized for our efforts by MMNA for the second year in a row," said RC Hill, dealer principal, RC Hill Mitsubishi-DeLand. "Our popular customer programs, such as our complimentary service loaner vehicles and new online service scheduling tools have once again proven the service experience at RC Hill Mitsubishi simply can't be beat."
RC Hill Mitsubishi-DeLand is located at 1960 S Woodland Blvd, DeLand, FL 32720, and can be reached by phone at (386) 736-3638 or online at www.rchillmitsubishi.com. 
For more on Mitsubishi Motors and its U.S. dealer network, please visit media.mitsubishicars.com. 
About Mitsubishi Motors North America, Inc.
Through a network of approximately 350 dealer partners across the United States, Mitsubishi Motors North America, Inc. (MMNA) is responsible for the sales, research and development, marketing and customer service of Mitsubishi Motors vehicles in the U.S. 2019 marked the brand's seventh consecutive year of sales growth.
Located in Franklin, Tennessee, MMNA is a part of the Renault-Nissan-Mitsubishi Alliance. Mitsubishi continues to lead the way in the development of highly efficient, affordably priced new gasoline-powered automobiles, while using its industry-leading knowledge in battery-electric vehicles to develop future EV and PHEV models.
For more information on Mitsubishi vehicles, please contact the Mitsubishi Motors News Bureau at 615-257-2698 or visit media.mitsubishicars.com.